Come hear the morning talk-show host with the straightforward, punchy style, Sid Rosenberg, discuss what the future holds for our city, state and country following November's elections. Whether the election results are for or against us, and we are celebrating or sad, the author of the recently released "Sid-izens United: Salacious Spiels, Stories, Suggestions and Solutions to Withstand a Woke World" will suggest how to move forward. Join the conversation at the next meeting of the Gertrude and Morrison Parker West Side Republican Club.
In Person Meeting!
The Jewish Center
White Room
131 West 86th St
New York, NY 10024
Also on Zoom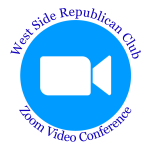 Dial In Information (No Zoom Required)
Dial: 929.205.6099
Meeting ID: 962.572.3384
THE GERTRUDE & MORRISON PARKER WEST SIDE REPUBLICAN CLUB AND/OR ITS AFFILIATES MAY MAKE AUDIO AND/OR VISUAL RECORDINGS OF THIS MEETING. BY ATTENDING THIS MEETING, YOU CONSENT TO THE USE OF YOUR VOICE AND IMAGE.
Related Biography
Click to buy Sid Rosenberg's books, or browse all of our books in the club's Book Store
Proceeds from each purchase benefit the club!